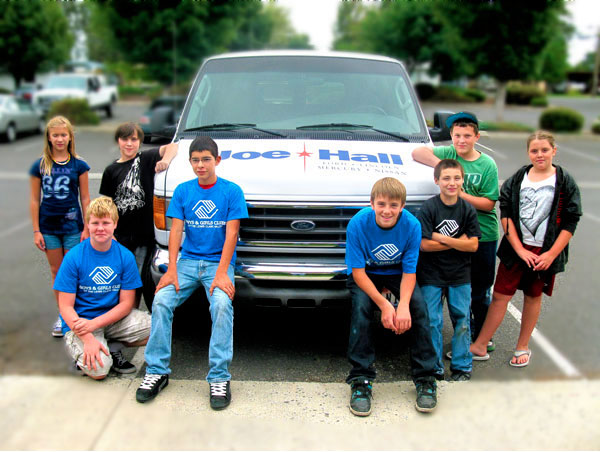 Click here to download our Contribution Request Form. Once completed, please print it out bring it to our main office. Or send us the application via Email or fax.

This "Contribution Request Form" is a useful tool designed to help in preparing a request for donation. Following the guidelines will ensure that all necessary information for review of your request is submitted and will likely result in a timely response. Thank you.

All requests for contributions must be in writing and addressed to:

Joe Hall Ford, Lincoln, Nissan
ATTN: Request for Contribution
1617 21st Street
Lewiston, ID 83501

Please include the following information in your written request for contribution:
Your name and contact information.
The name of your group or organization.
A good description of the activity, event, foundation,
etc. the contributed money will be used to support.
The community or communities that will benefit from this donation.
If a logo, banner or other Joe Hall Ford information
is needed along with the contribution.
The amount of money you are requesting be donated.
The date you wish to receive the donation.
If Joe Hall Ford Corporation has contributed to your group
or organization in the past and if so, when and how much.


We know that giving back to the communities we serve helps make the Valley and surrounding region a better place for all of us. You will notice that our giving strategy is focused on helping youth. We support organizations and groups that positively affect the largest amount of young people in our community including: American Legion Baseball, Northwest Childrens Home, Lewis-Clark State College Athletics, Area Little League Baseball, Boys & Girls Club of the Lewis Clark Valley and Area High School Athletic Booster Clubs.

Although it is not mandatory, if your organization has 501C3 or 501C6 status, that is helpful and should be noted on your written donation request form along with your tax ID number. It is also important that you let us know if your organization has current Joe Hall Ford, Lincoln, Nissan members or volunteers.

Organizations we have donated to:
• Boys & Girls Club of the Lewis Clark Valley

• Northwest Childern's Home

• NAIA World Series

• Lewis-Clark American Legion Baseball

• Lewiston Babe Ruth and Little League

• Twin County United Way

• 4H & FFA Livestock Sales